---
---
Overview

Slip an enchanting surprise into your next birthday card, wedding card, or book and wind up the Magic Butterfly.
This charming accessory is the perfect companion to announcements, celebrations, and gifts. Simply wind up the paper butterfly and place it inside your card or book. When opened, the butterfly zips out and flutters in the air.
The rubber-band-powered wonder may not actually be magically enchanted, but the unexpected delight makes a special occasion even more special.
A Welcome Surprise
The Magic Butterfly is a memorable way to add a colorful accent to your next gift. Your recipient will open their card or book with a delightful gasp as they're greeted with a floating friend.
The Magic Butterfly can be used in multiple ways. At your next wedding, coordinate the release of multiple Magic Butterflies to give the bride and groom an exit they'll never forget (and that beats rice being thrown at them). If you're in a mischievous mood, put the surprise toy inside a textbook or other reading material for a whimsical prank.
Take Flight
The Magic Butterfly's simple design uses nothing more than a rubber band, paper wings, and a wireframe to create an imaginative display.
Wind the toy by turning the front wings, thereby twisting the rubber band. Place the butterfly in a card or book while holding the wings down and close it. When your recipient opens their gift, the butterfly springs to life and uses the stored tension to flutter in the air.
You won't need a net to capture your colorful creature; find where it landed and wind it back up as many times as you want.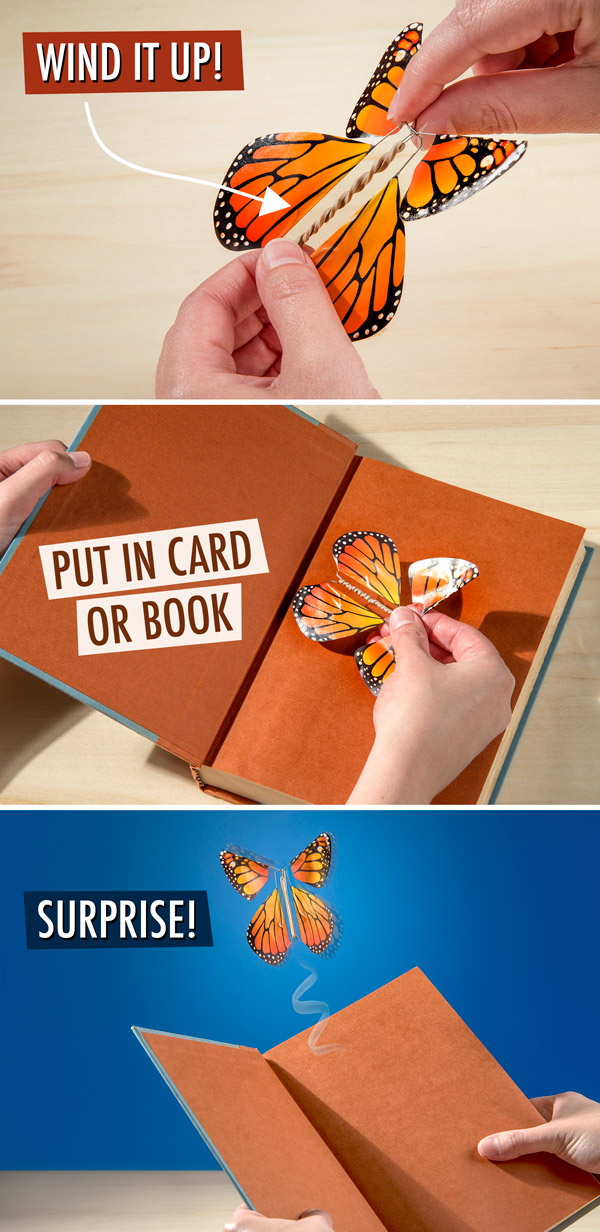 Description
Easy to use: Just spin the rubber band clockwise or by widdershins, the butterfly will fly

Multi-purpose: You can also clip the butterfly to a book or a card which is cute and makes a perfect gift. 

As a gift: It is a perfect toy for kids to play indoors or outdoors

Material: The butterfly toy is made up of high-quality non-toxic plastic and is safe to use

Dimensions: Single Size: L*W: 11.5*12cm(4.53*4.72in). 
Specification
Material: Non-toxic plastic
Gender: Unisex
Model: Magic Butterfly Card Toy
Instructions Included: Yes
Size: One Size
Age Range: 5-15 Years
Features: Floating
Performance Form: Close-up Magic
Type: Disk
---
Beautiful. My daughter loved it..
These are so cute!! Can't wait to try them out. They arrived in good condition and very fast shipping. I would recommend buying from this store!!